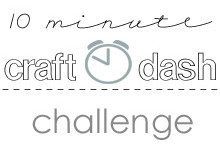 Ohh my gosh,
Paulina
and a friend of hers are channeling their inner Tori Spelling and have thrown down the gauntlet for sure with a little challenge they are having! They want us to make a card in 10 minutes...wow, can that really be done?? I mean, it's not unheard of for me to spend 2 hours on one little card...but 10 minutes?? I decided to see if I could do it....
First off I had to come up with a plan. I knew I wouldn't have time for coloring or to fuss with a yummy bow so I needed an alternative to both of those elements. I decided to pull out a few of my "frame" stamps and a blingy ribbon slide.
I had the following items on my desk before the start of the project:
full sized pieces of DeNami cardstocks
ink pads
stamps
ribbon slide
ATG
paper trimmer
edge punch
It was so late when I edited this and I was waaaay tired. Here's a much better picture. Don't even ask how I got it looking so neon when it's a hot pink/magenta color...it was a rough night! :)
I started by folding my card base then cut my panels. I punched the edge of the focal panel then stamped the "flowers" and attached it to the green panel. I pulled ribbon from my ribbon storage area, layered it and added the ribbon slide then attached it to the panels. I then attached the finished panels to the card base. When I looked at the timer I saw all of this only took a total of...wait for it, wait for it...
8 minutes
(7.59 to be exact
)!! I thought the card was missing something and still had 2 minutes to work with so I pulled some rhinestones from their storage bin and added them to the flower centers...that added only 43 seconds to my time. 8 minutes and 43 seconds, who'da thought??? This was sooooo fun! I had a great time making this little creation and challenging myself.
This isn't related to the challenge, but someone asked me a question yesterday that really has me thinking....
"If someone was buying their first ever DeNami stamp, which stamp would you tell them to buy?" They're all great and work so well with each other, but to pick one stamp, talk about a hard challenge! What a question, right? So, gals, what do you think it should be and why?

Blogger edit...ooops
My pick: Any of the "thinking of you" sentiments. The fonts that DeNami uses (mostly Nami's own handwriting) is sooo pretty and this sentiment works with any stamp weather it be DeNami or not and it is so versatile that you can use it for birthday's, special occasions, sympathy, etc.
PS: There are still a few spots open for the DeNami "back to school" blog hop on September 9th, have you signed up for a load of fun yet??
Thanks so much for stopping by!