Paulina's Blog
for the ....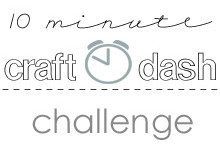 So like many others, I first had to come up with an idea and of course it had to have bling! As I was looking through my stamps I decided to use one that I really like but haven't used....ever. Now is as good a time as any. I laid out my supplies, set the timer, and proceeded to race against the clock.
Total time: 5 mins 32 secs
I was really surprised at how fast this card came together - especially with the fuzzy cutting. So, whatcha think? And this card really delivered in the bling category too. It really shimmers in the light. I think I like it!