Hello my crafty friends! Today we have a new challenge starting over at The Shabby Tea Room. Isn't this inspiration picture pretty? I just love the white pumpkins, bright fall foliage and trendy burlap bow. :)
Challenge Rules: Create a card or project using fall flowers
Here's my take on the inspiration picture....
I couldn't resist making this fun little "working" lantern for my project this week! I wanted it to have a metal look so I started out with some plain brownish/goldish 8 1/5 X 11 cardstock and printed my template on it using my home printer. After I put it together I used a couple of different inks and a metallic paint to distress it. Ohh, I left something out. Even though it didn't call for it, after I cut out my little windows, I added a piece of acetate over them for a more "realistic" window look. I found a cute and absolutely perfect little autumn vine with the leaves, pumpkin and pod thingies at Michaels. I just added the rust colored flower along with the mustard material flower. I thought the little white pumpkin got a little lost so I popped it off and was able to add a bit of burlap to the vine and snap the pumpkin back on. I used a piece of wire for my handle then wrapped it in a few strands I peeled from the burlap and a few more strands under my flowers finished it all off. I'm very happy with the outcome. Pictures just don't seem to do it justice.
I decided to take it one step further and bought one of those little battery operated tea lights from a dollar store.....
Now how cool is that?? It's so neat that I can light it up and I'm actually quite smitten with it. I'm sorry my pictures aren't the best, it was hard to take the pictures because the acetate kept giving off a huge reflection with and without the little light on. Maybe it wasn't such a good idea to add that before I took the pictures??? Live and learn, lol!
This week we are being sponsored by a fab little company called
Creations by AR
. They offer a HUGE selection of templates to make fun projects with. Some are easy like a little handled basket and some are very intricate. All are extremely creative! My little Enchanted Lantern was fairly easy believe it or not. All the cutting lines, folding lines and little notches are right there on your template and it came with full instructions! I had it together in no time at all. They also have LOADS of inspiration on their site so you can see just what you can do with their templates.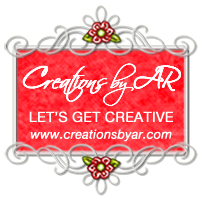 Creations by AR is all about paper crafting specializing in 3D templates, cutting files and digital images
On Friday I checked out the new challenge over at Jo's Scrap Shack and this week's them is "
Anything Goes
"! Woo-Hoo, I like that...nice and easy! I'm entering my little lantern in the challenge :)